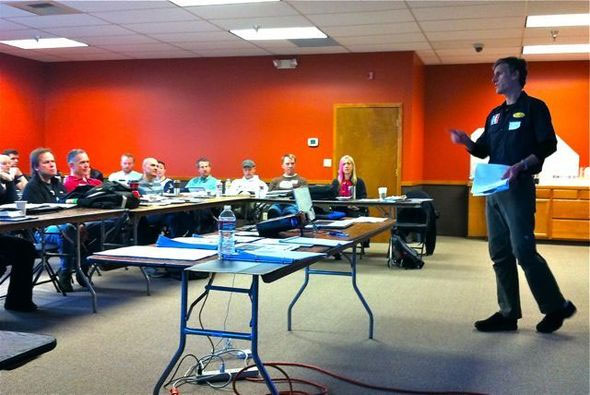 "I will always remember the care we received by our nurse Jean when our daughter died. She bathed our child, wrapped and presented her like any newborn. With a smile, she asked us if our daughter looked like our first child. She treated Emma with dignity and respect. I was so numb & distraught that only with the nurse's support were we able to hold our baby and take photographs. I will cherish those photos forever. I am grateful for the care we received from this special nurse."
" A nurse sent a sympathy note to my home. I will never forget her love and care."
Professional caregivers such as nurses, physicians, chaplains, clergy, ultrasound technicians, social workers and funeral directors are often the first contact with parents after they have lost their child. Understanding grief and loss allows them to provide the initial comfort and support that is so helpful on the path to long term healing.
Professional in-service education programs are available to enhance the ability and competence of health care workers to provide effective quality interventions. Utilization of this community resource can be invaluable to the work of bereavement teams and other personnel.
1. RTS Bereavement Support Training Conference
A baby dies… A wanted pregnancy is lost…As a professional, how do you react? What do you say? RTS Support Training could be the answer for you! Learn the skills based on grief theory to help grieving families.
Multi-disciplinary two day RTS Bereavement Training Programs are offered twice a year, at various locations around Ontario, to professional and lay persons involved in the care of bereaved parents at the time of their baby's death. This intensive program allows for hands on practice of many of the techniques presented including picture taking, hand and foot printing and shrouding.
This two day course provides insight, knowledge and hands-on classroom experience with the skills necessary to interact with families experiencing perinatal loss at any gestation.
2. Perinatal Bereavement for Spiritual Caregivers
 This half day seminar will increase your understanding of perinatal bereavement. This session will be lead by health care professionals that are RTS trained and are also be bereaved parents themselves. A 30 pages caregiver manual and educational certificate is provided.
3. One-Day Sensitivity Seminar for Professionals
One day Sensitivity Days on Perinatal Loss occur on a regular basis in conjunction with hospitals, funeral homes, public health units and other agencies to inform front line caregivers about the needs of bereaved parents at the time of their baby's death. These sessions are lead by health care professionals that are RTS trained and may also be bereaved parents themselves. A parent panel is part of the day which also includes video, slides and a Caregiver Manual, a "hands on" aid for the front line caregiver. A fee is charged for this service.